Google Ads, formerly known as Google AdWords, is a Google advertising tool that allows users to advertise their businesses using ads on Google's search results and network. Advertisers pay per click or impression on an ad with this pay-per-click (PPC) advertising strategy.
There are 8 Types of Ad Campaigns with Google Ads, which are:
Search – Text ads on Google search results
Display – Image ads on Gmail or websites
Video – Video ads on YouTube
Shopping – Product listings on Google
App – Your application promotion on multiple channels
Smart – Simplified automated ads on Google and across the web
Local – Drive customers to a physical location
Discovery – Runs ads across Google's feeds when they are open
Bidding
Google ads work like an auction. If you want to advertise on Google, you need to select a maximum amount of money (your bid) that you're willing to pay for a specific action on your ad. Naturally, higher bids get better ad placements.
CPC (cost-per-click) – The amount that you pay for a click on your ad. CPM (cost per mille) – The amount that you pay for 1,000 impressions of your ad (times your ad is shown to people).
Ad Campaign
It is a set of ads with the location targeting, budget, and other settings.
Keywords
Keywords are those that describe your product or service with either words or phrases. Keywords decide when and where your ads show, so use keywords that best match the search intent of your target customers.
Conversion
When a user performs the wanted action, which are wanted by you (makes a purchase, signs up to your newsletter, and perform more activities).
5 Major Types of Google Ad Campaigns
Let us take a glance at the type of the Google Ads here.
1. Google Search Ads
This attracts people that are looking for your products. Text ads that appear on Google search engine results pages are known as Google Search Engine Result Pages (SERPs). Your search ads might show up at the top of the page, above the organic search results, or at the bottom.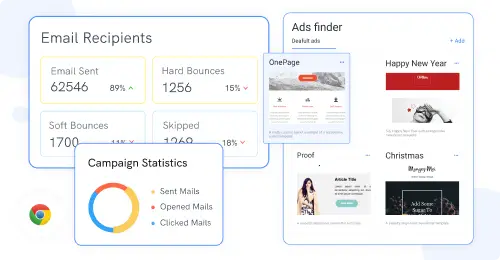 Usage
These are used to get in front of people who are ready to buy.
You may reach buyers while they're looking for the products and services you provide by targeting keywords with buyer intent. If you're selling food for pet animals like dog and cat, for example, use keywords like "dog and cat food" to attract customers who are searching to buy a dog bed.
Your bid price determines whether your ad campaign appears at the top or bottom of the SERPs. The higher your bid, the more visible you become.
2. Display Ads
This is used to generate brand awareness.
While search ads are text-based and allow you to target specific keywords, display ads are image-based and allow you to target those who may be interested in your items but aren't actively looking for them.
For example, When you're browsing your favourite websites, you're likely to come across display campaigns. They can, however, appear in your Gmail account, apps, or movies.
Usage
Increase your brand awareness by reaching out to potential customers early in the buying cycle.
Display ads can help you promote your company to certain target audiences that are likely to be interested in what you have to offer. When opposed to merely employing search ads, you can reach a larger number of people this way.
3. Video Ads
This is used to get in front of targeted audience
You may target your potential consumers on YouTube based on what they are seeing because YouTube is owned by Google and functions similarly to a search engine–only for videos. With over 2 billion users around the world, you have a sizable audience to target!
Your video ad campaigns appear in the search results before, during, and after YouTube videos.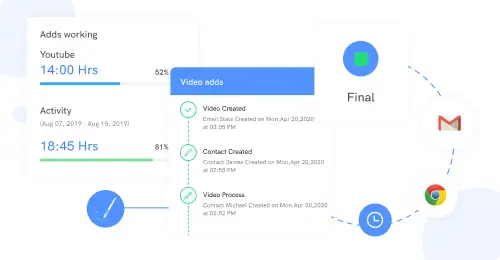 An example of a video game ad that appears before another video is as follows:
You can utilise demographic targeting with video ads to reach your target viewers based on age, gender, and interests.
Before users can switch to their intended film or watch the ad for the entire duration, in-stream video ads have a 5-second timer. In either case, you'll have plenty of time to get your message over.
Usage
Use this ad format in combination with display advertising for maximum impact.
4. Shopping Ads
Use these to reach out to customers who are ready to buy.
Google Shopping Ads are ads that are based on products. They're only seen when you search for products on Google.
Shopping ads, unlike typical search ads, include an image of a product as well as the product title, price, store name, and reviews. In essence, they supply vital product information to customers before they even visit an online site.
Usage
These are used to Boost traffic to your businesses and increase sales.
5. App Ad Campaigns
Use these to get more people to download your app.
Do you have a mobile app for your company? You may advertise it with app campaigns on Google's main properties, including as Google Play, YouTube, Search, and the Google Display Network, using Google Ads.
Usage
Creating ads to promote the installation of your app or a certain activity within it.
You don't need to generate individual ads for App campaigns, unlike other ad kinds on Google Ads. Instead, your adverts are created for you automatically!
Provide some text, a starting bid, and a budget for your campaign, as well as the languages and locations. If HTML5 assets are important to your business, you can also include them. The information will then be adapted by Google Ads for a variety of ads across various formats and networks.
Conclusion
Google Ads should be a component of your sponsored campaign because of its reach and authority. Start with the suggestions that 500apps provided, and remember to improve and iterate as you go.
There is no such thing as a Google Ads campaign that doesn't work; only those that require a little more attention. You now have everything you need to construct a successful Google Ad campaign that generates clicks and converts leads, thanks to the approach and information given here.
You can increase your brand awareness and business productivity by associating with 5ooapps, by availing the all-in-one business suite at just $14.99 across all your platforms and channels.