How to Use NinjaSEM for Keyword Planner?
We will show you how to use NinjaSEM for Keyword Planner, so that you can find the best keywords for your SEO and PPC campaigns.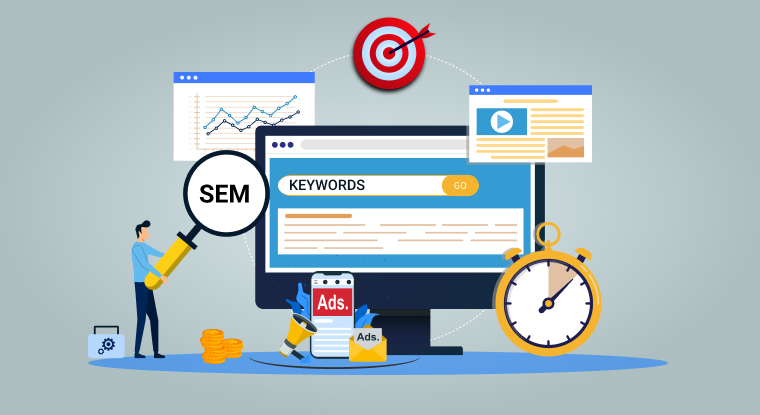 NinjaSEM is a PPC (pay-per-click) software that allows users to control campaign creation while optimizing their one-click options. Marketers only pay for an ad when someone clicks on it in a PPC model. Marketers who want to pay for advertising that lead to website visits, content downloads, and other actions use this model. The greater the cost per click, the more familiar the keywords.
Valuable Features in NinjaSEM
Some valuable features that NinjaSEM include;
Shopping Ads
It helps assemble collections of individual items. It also helps manage bids and labels search queries as negatives when bidding on any shopping ads. Also, it ensures that current campaigns are updated to incorporate the latest product feed while creating both traditional and intelligent shopping ads.
Search and Display Ads
It helps for Responsive Search Ads to be created and added. It also excludes non-converting display placements and zero-conversion rates smartphone applications. The added feature of AB testing will help you find winning ad text and optimize ad text components.
Bids and Budgets
bid management helps increase ROI and achieve budget goals, lower bids for costly keywords. Optimize automated bidding goals for transforming advertising to maximize impression share. Boost the ads' exposure to the top of the list.
Keywords and Search Terms
It possesses the ability to find new keyword possibilities. Finding and excluding costly keywords will help you save money. Remove single-word and repeat keywords from your list with a keyword research tool.
PPC Account Optimization
It has an added feature that makes it possible to optimize your account. The software gets recommendations based on historical evidence, review them, and makes adjustments in a matter of seconds which boosts account efficiency. Account optimization takes minutes, not hours.
But most important is the capability of the software to perform keyword generators. A keyword planner is the ability of PPC software to see how often particular terms are searched and how specific searches have changed over time. You can use it to figure out which keywords to use in your PPC campaigns. With some goods, you can also build ad groups for targeted campaigns. It's a convenient function. It enables you to analyze various keywords based on particular criteria such as location to generate a list of top-ranking keywords that may be useful to you as a user in your company or product ad campaigns.
Why Should You Use a Keyword Planner?
Keeping up with the best practices in the advertising space is a never-ending challenge, particularly with the industry's standards in constant flux. For companies looking to refine their website, a keyword planner has many advantages.
Search Engine Visibility
Improving search engine visibility can eventually push website visitors to an e-commerce site. Keyword planner may aid in the selection of the most traffic-generating keyword, the creation of good content from scratch, the reworking of mediocre content into good content, and the generation of both quality and quantity of linkbacks.
Analysis
Keyword planner is user research. It will assist you in determining the best keywords to target to drive relevant traffic to your website. This feature enables users to assess how their content or websites are currently doing and ways to improve them, such as identifying keywords to target and formatting suggestions. Many services also monitor rating changes, enabling users to make changes to content that has started to perform poorly.
Besides knowing why you should do keyword research, you should also understand how exactly keyword research helps your business or service directly. The points below outline that;
Recognize and communicate with your target market.
Look for new subjects to cover on your website.
Acquire qualified leads
Boost the revenue
Increase clicks and experiences of better marketing campaigns.
Increase the brand's visibility.
How to Do Keyword Research Using NinjaSEM?
Setting a keywords for your ppc marketing ads is the first move. What is the aim of a Keyword planner? Are you trying to figure out what keywords your website ranks for right now? Are you looking for the language your clients use or the keywords your rivals use? Are you trying to figure out the keywords to use on your website or in a pay-per-click campaign?
Depending on your goal, your methods will differ slightly. Whatever your goal, it is clear that the endpoint is for you to optimize your website, and to do this, you must conduct a keyword study.
STEP 1: Selecting Keywords
Begin by making a list of your company's primary goods and services. Describe them in terms that your target audience would use when discussing your goods and services. These are the keywords you'll start with. The quickest way to get a fast rundown of your keywords is to use the Keyword Overview feature. A detailed list of all significant keyword metrics, including search volume, CPC, paid search competition, top-ranking websites, ad copies, and more. You will be able to start reviewing the report after entering your keyword in the search area. Take a look at location searches (Keyword Research). Locations as suffixes or prefixes for relevant keywords should be considered by businesses representing a particular geographic region.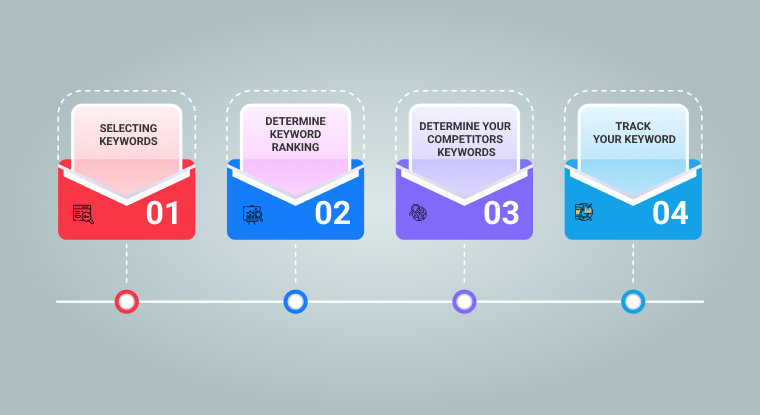 Look through the Ad history report. The Ad History report allows you to spot advertisement patterns and determine if a keyword has been used in paid search before. Over an extended period, you can see all of the domains that bid on the specified keyword and ran a PPC ad. You can also see the total number of ads for that keyword and the amount of ad traffic and ad traffic price.

To expand your list of organic keywords, you can make use of the NinjaSEM keyword research tool. Once you are logged in, an organic list will be made available, which you will have access to browse. Start with just a single seed keyword.

To find niche long-tails and suggestions for your PPC ad groups, look at the suggested groups and subgroups of similar topics. Sort groups by volume or number of keywords; use the eye icon to exclude groups you don't need.

Remember that any advanced filters you've added to the list of topics would also apply to it.

Pay attention to the Match Modifiers, which allow you to widen or narrow the keyword range according to your preferences.

Use the Questions Filter to filter out keywords that are related to questions.
These keywords generate a lot of high-quality traffic and often trigger featured snippets, which act as a shortcut to the top of the Search Engine Results Pages (SERP).
STEP 2: Determine Keyword Ranking
Next, you will need to determine your keyword difficulty level. This estimates how difficult it will be to outrank the existing websites and webpages ranked in the top spots on Google for a specific keyword organically. You won't be able to rank highly for any keyword in your master list right away, as you probably already know. It would help if you prioritized where you should focus your efforts. As a result, the Keyword Difficulty metric was developed. This metric index is expressed as a percentage (1–100%). It would be more challenging to outrank the rivals in organic search results if it is higher. Keyword Difficulty estimates how difficult it would be to outrank the competitors organically for a given keyword. This report also displays the monthly volume of a keyword, the number of URLs in organic data, and SERP features, in addition to difficulty. You will also see a snapshot of the SERP and patterns in the popularity of a keyword over time.

Following this, you need to do competitor analysis. This is the number of paying advertisers (via PPC) who use a specific search term in their advertisements. While this metric applies to paid search competition, it can also represent organic search competition. We can presume that the scale is about the competitor analysis. The critical distinction is that the metric is a decimal between 0 and 1, and it calculates the density of paid advertisements. The closer the competition level score is to 1; the more advertisers are bidding on this keyword right now. As a result, standing out in the search results would be more difficult. With this information, you can find the best low-competition keywords you should potentially pursue in organic search, as well as which keywords you can avoid using SEO tools for and instead use PPC. Finding low-competition keywords takes time and effort, but it pays off because you won't waste time and energy chasing ambitious ranking targets.
STEP 3: Determine Your Competitor's Keywords
When you have your list of keywords, it is essential to cross-reference them against keywords from your competitors, so you can figure out a way to get a better hand. You can find your organic search competitors, see the keywords they rank for, and review their pages' recent ups and downs in search results using the organic research feature. You can see all of the keywords that their given domain is ranked for in the top 100 search results once you have a list of competitors. Each keyword for which a domain rank is accompanied by the URL of the corresponding landing page and some metrics to help you with your keyword research.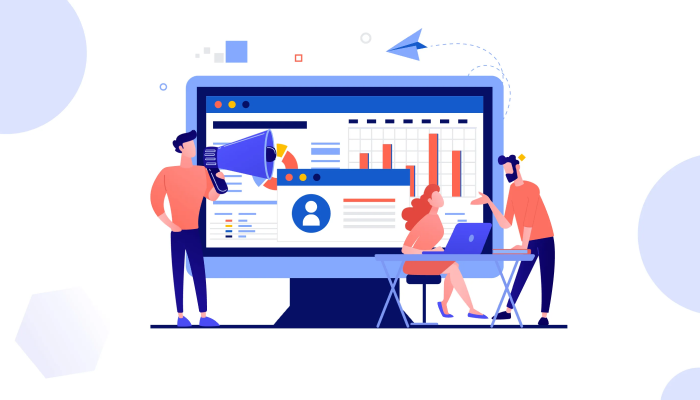 Do some keyword research on three or four of your closest competitors. Repeat the last step of this procedure, substituting one of your competitors' domains for your own. You can also Export your competitor's organic keywords and add them to your list if they offer similar goods and services. You can use the keyword gap feature on NinjaSEM, which allows you to compare the keyword profiles of different domains side by side. It's a perfect way to see where and how far you're losing ground in the search rankings. After that, you should focus on unique opportunities to customize your website.

Now that you know which words are the most and least competitive. The next step is to bid. This process goes thus; when someone searches for something on Google, the search engine asks the advertisers to see if their ad groups have a keyword match. The auction starts if one or more advertisers are bidding on keywords that Google considers essential to the search question. It is vital to do your keyword research and find out who else is bidding on the keywords you want, how much they're paying, and the average cost per click. This information will assist you in establishing which terms are worthwhile investments and which are merely pipe dreams that will eat into your budget with little return. You can remove excessively competitive and high-cost keywords from your list once you have cost and competitive data. You can use the bidding tool that NinjaSEM offers to do justice to your bid.
Track Your Keyword
It's time to watch how well you're doing after you've found the best keywords, bid on the most cost-effective ones, and built new content for the low-competition ones. Enter the URL domain of the site you would like to see keyword rankings for, choose your computer and position, and enter your keywords. You can simultaneously target different device types and geographic locations down to the ZIP code level and find SERP feature opportunities and local competitors.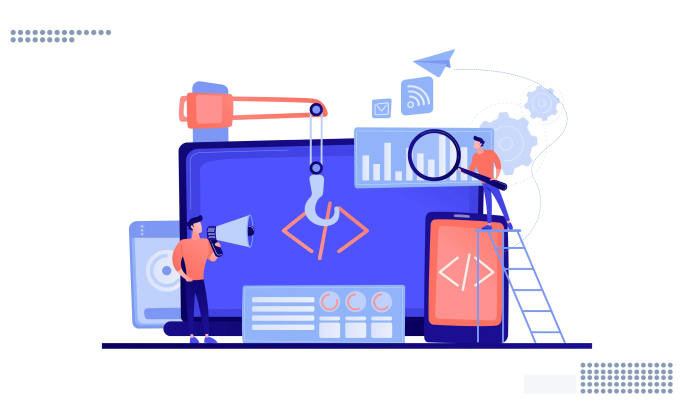 Conclusion
Keywords evolve there will always be several ways to say the same thing, and patterns often alter the online searches people conduct. The manner with which people use search engines changes as your audience expands and evolves. Search engines evolve as well; algorithms improve to interpret content better and fit the intent of users.
Business growth consultant, Adam Audette, said, "Today, It's Not About 'Get the Traffic' — It's About 'Get the Targeted and Relevant Traffic."
To stay important, you must keep updating and tailoring your content to the target audience's needs. Knowing this means knowing peace. The great thing is that now you know how to use NinjaSEM for keyword research, and you never have to worry about the world leaving you behind. Take the initiative, and sign up on NinjaSEM today to improve your business's visibility to customers both locally and globally.
Why NinjaSEM?
#1
Improved Conversion Rate
#4
Competitor Ads & Keywords Screening Tool
#5
Exclusive PPC Campaigns
#7
Google Ads Optimization
#8
Intelligent Keyword Evaluation
#9
Unbelievable pricing - the lowest you will ever find
#10
Everything your business needs - 50 apps, 24/5 support and 99.95% uptime
Join the SaaS Revolution
All-in-One Suite of 50 apps

Unbelievable pricing - ₹999/user

24/5 Chat, Phone and Email Support