5 New SEM Strategies to Implement for Your Business
Are you looking for new marketing strategies to implement for your business? Here are 5 new SEM strategies that you can implement.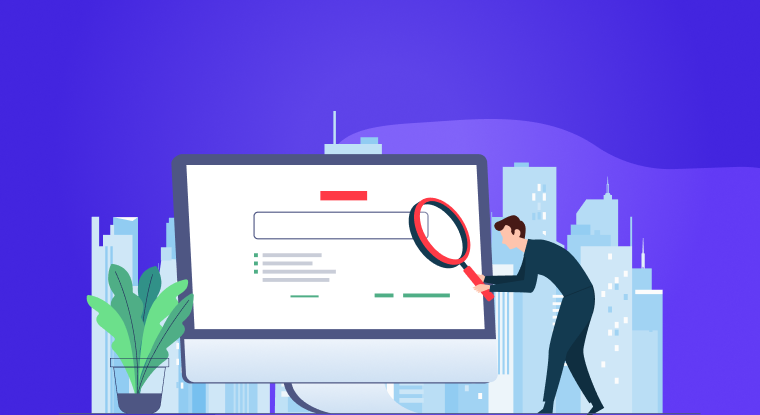 With digital marketing taking precedence over other forms of marketing, it's not surprising that most businesses are taking advantage of (search engine marketing) sem tools. If your business has an online presence, the next thing you want is to increase your visibility. You want it to rank among other top websites on search engines. The sem tools approach you take will impact your brand's visibility. This will also impact whether you will attract the right amount of traffic your way.
While SEM strategies will get your company's name out there, it's never that easy. Luckily, here at 500apps, we know what's best for your business. This blog will outline for you 5 SEM strategies you should implement to get the most from your marketing campaigns.
Top 5 SEM Tactics to Implement
Here are 5 well-researched strategies for SEM that will surely give a boost to your conversion rate:
1. Make Use of Long-Tail Keywords
Let's start with a simple strategy that won't require a lot from your end. Using keywords is the best approach here is to use long-tail keywords because they are usually highly focused. The main reason to use this type of keywords is that the conversion rate you get from them is higher. Keep in mind that when someone is searching for someone online using long-tail keywords, it means they know what they want. Therefore, winning them over might be relatively easy if only you provide them with specific things they need.
2. Focus on Local Search
Another thing you may want to consider is that most people visit the web to search for local businesses. Consequently, your SEM strategy should focus on providing the solutions people are after. If you are selling your products or services locally, your SEM Strategies should put consideration. For instance, you can add your location next to your campaign. You can also be specific about the audience you wish to target. It is easy to narrow down to your target marketing. Someone looking for your products/services will automatically visit your page.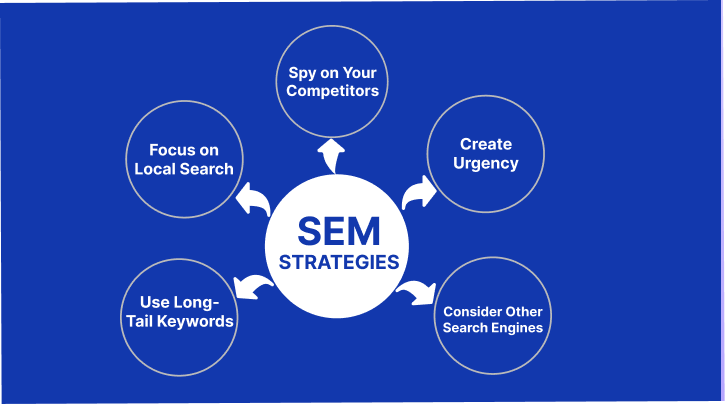 3. Spy on Your Competitors
You may be curious about knowing the best SEM strategy to implement because your competitors are already using search engine marketing. The idea here is to know what your rivals are doing to stand out. Aim to learn from the best. With the popularity of an sem marketing tool like NinjaSEM, the chances are that your competitors might be using this PPC Management Software. This is great tool if you are looking to create quality and effective ads for your website. You can also use NinjaSEM to analyze your competitors and determine the keywords they might be using on their websites.
4. Create a Sense of Urgency
We all know how effective certain promotional messages are. For example, when you come across an ad indicating that an offer expires after 24 hours, you may want to use the opportunity before it expires. That said, think about implementing this SEM strategy in your campaigns. Create some urgency in the minds of your target market. If your advert features an offer that will expire soon, don't forget to mention this to your audience. Be specific, and highlight the offer so that your audience won't miss it. This strategy can increase your traffic and contribute to better conversion rates.
5. Consider Other Search Engines
Businesses will major in optimizing their campaigns for Google only. Well, Google is indeed the best search engine so far. However, this doesn't mean that you should ignore other search engines. Consider other search engines like Yahoo, Bing, etc, while optimizing your SEM strategy. While these search engines might not give you the best marketing outcomes, you never know where your audience might come from. This is why segmenting your audience is always recommended. Strive to segment your audience based on gender, location, age, etc. This guarantees that you target them using the best approach. Then, armed with the right information, you can devise a practical strategy that works for you.
Bonus Tip: Start Small
Indeed, after reading these SEM strategies, you may be over-excited about the idea that your ppc campaigns can indeed get you the traffic or the conversion rate you've been longing for. So, you may want to jump in with both your feet and create even up to 10 ads at once. However, it should be made clear that rushing in to push all your ads at once puts you at risk of overlapping them. This means effectiveness of each ad is compromised. Another issue with this strategy is that you will never truly gauge the effectiveness of each ppc campaign. So, its an advise to start small and evaluate your SEM strategy periodically.
Benefits of SEM Strategies
Now that you know a few SEM strategies you can implement let's look at some of the benefits you will be enjoying in your business: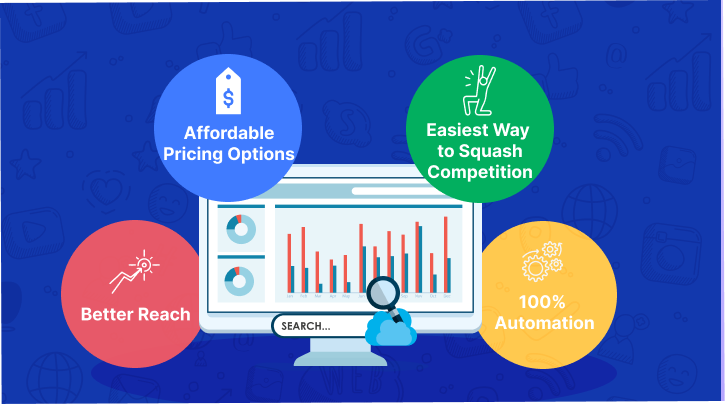 1. Better Reach
The reality is that you won't be reaping the benefits of sem marketing right away. However, you can be certain that you will be reaching a wider audience from the word go. Consider using a ppc marketing tool like NinjaSEM to win the PPC battle against your competitors. This software gives you control over one-click optimization and campaign creation. It allows you to manage, set up, track, and your PPC campaign optimisation.
2. Affordable Pricing Options
Assuming you will be taking full advantage of NinjaSEM software, you will be paying only $14.99 per month. There is a lot you can do with this software, and the best part is that you don't have to break your business budget as you look to improve your SEM tactics.
3. Easiest Way to Squash Competition
It's not easy to compete against your rivals when you are not sure about what they do. But with a tool like NinjaSEM, you can do competitor analysis and find a way of overcoming their competition. For instance, if there are specific keywords you may not be using, you can optimize and start using these keywords for better SEO.
4. 100% Automation
NinjaSEM is the best SEM automation tool you can find online. So, expect to automate most of the workflows especially concerning managing keywords and ad copies.
Conclusion
Why NinjaSEM?
#1
Improved Conversion Rate
#4
Competitor Ads & Keywords Screening Tool
#5
Exclusive PPC Campaigns
#7
Google Ads Optimization
#8
Intelligent Keyword Evaluation
#9
Unbelievable pricing - the lowest you will ever find
#10
Everything your business needs - 50 apps, 24/5 support and 99.95% uptime
Join the SaaS Revolution
All-in-One Suite of 50 apps

Unbelievable pricing - ₹999/user

24/5 Chat, Phone and Email Support