A Guide to Pay-Per-Click Advertising Software and Types of Google Ads?
Pay-per-click advertising is different from Google Ads in several ways. Learn about the differences and which one is better for your business.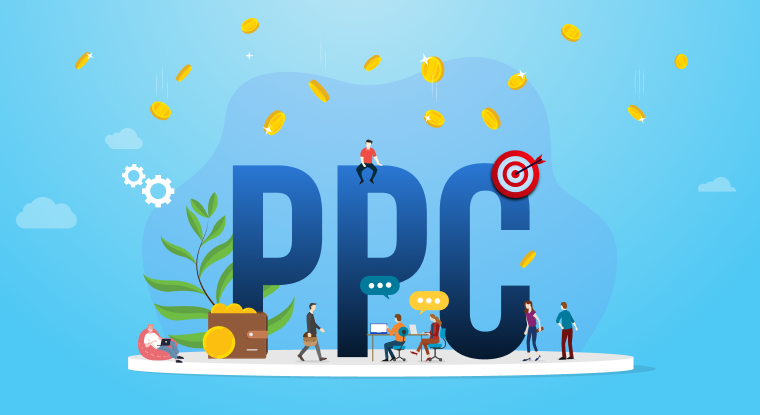 For some of us, this might be the first time we hear about the pay-per-click advertising. Not to worry, this blog will give a comprehensive explanation of PPC campaigns and the best PPC management software to generate leads and improve sales.
Pay-Per-Click campaign (PPC campaign) means buying visits to your site instead of earning those visits organically or automatically. ppc campaigns is a form of Google Ads marketing whereby advertisers pay a token each time their business ads are clicked. For digital marketers who engage in a PPC campaign, every time an internet user clicks on your ad and is redirected to your page or website, the search engine from which such a user is redirected gets paid by you, the digital marketer.
According to Google, "15% of searches on the Google search engine are brand new every day". Best plans marketing tweeted that the three major digital marketing components are: Search engine optimization (SEO), Pay-per-click advertising (PPC), and Web design.
As for Search Engine Optimization, it pushes your ranking on Google search and displays products pages at the top of the generated results. SEO involves including content that has the tenacity to improve your site visibility and coverage on search engines. In summary, SEO helps your page or website show more often and ranked at the top in relevant searches.
Types of Google Ads
There are other types of Google Ads campaigns to advertise your products and services on the internet. They are:
1. Google Search Ads
Google ads is a form of Google Ads campaign whereby your search Ads are displayed either at the top of the generated search results or at the bottom of the page. They are in-text ads that you see on SERP- Google search engine result pages.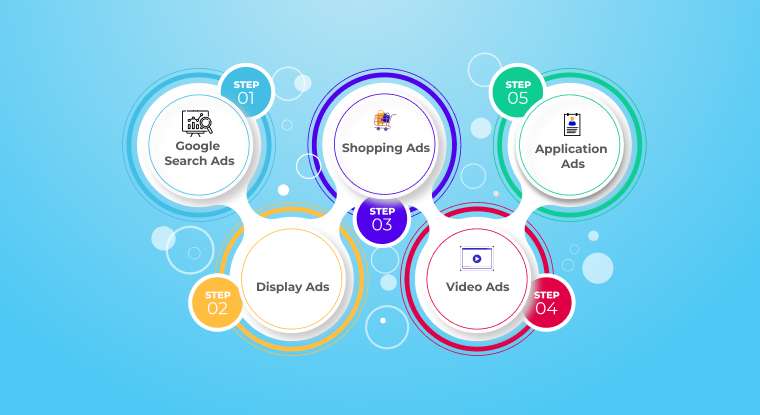 In using Google Search Ads, you're mainly dealing with texts and keywords. To get your products in front of potential customers when they search via the Google search engine, your content has to be compelling and unique, and your search campaigns should be branded, target your competitors' branded terms anthemadopt it alongside your search campaign and finally, create dynamic search ads.
2. Display Ads
Display Ads is another form of Google make that makes use of images. It is an image-based advertising campaign that allows you to target internet users who might be interested in your products and services.
Display Ads are used in creating awareness about goods and helps to put your product in front of your target audience, who are likely to be interested in the products.
The Google Display Network is used in getting your Display Ads campaign across to internet users. When using the Display Ads campaign, you have to prioritize responsive display ads and remarketing strategy.
3. Video Ads
Just like the name implies, this tAd of Google Ads makes use of videos. Videos used in this ppc campaigns can be inserted at intervals into video games, ,YouTube videos and TV commercials.
YouTube is the most popular online streaming platform with over two billion users worldwide, making it the best application to launch your video ads campaign.
To get the best result from your Video Ads, ensure you streamline your target audience using specific keywords or demographic information. Keep the length of the Ads short and make the messaging or information direct and concise.
4. Shopping Ads
Shopping Ads is another type of Google Ads that are product-based. These products are displayed whenever an internet user searches for similar products.
shopping ads display the products, alongside details such as price, brand name, product category, and reviews from customers who have used the products in the past. These details enable a potential customer to know the products before visiting the E-commerce or online store.
To ensure your shopping Ads attract the attention of internet users, your product images should be of high quality, adequate and accurate product information should be uploaded, and you endeavor to use popular keywords related to your products.
5. Application Ads
Application Ads is mainly referred to as App Ads. This type of google ads campaign enables you to promote your business via mobile apps. Mobile apps are designed for your business by programmers and app developers to suit your taste and budget. These apps are promoted on Google Play, Youtube, and Google Display Network. This suggests the apps to internet users and tries most likely to install the apps.
To run a successful Apps Ads campaign, you should allow Google to optimize your ads; this might take up to seven days, upload images, landscape videos and portrait videos of your apps on the internet.
The Pay Per Click Ads campaign is different from all the above listed Google Ad types because all the five listed Google Ads types listed above are the advertising solutions to PPC campaigns. The Pay Per Click Ads campaign can be adopted or integrated into any of the above Google Ads types.
The main difference between the Pay Per Click campaign and Search Engine Optimization is that the former requires payment while the latter is free of charge. You do not have to incur any cost for your website or page to appear in Google search results when using SEO while the Pay Per Click involves paying a token whenever your website or page is visited.
With the clear explanation provided above on how the Pay Per Click advertising is different from other types of Google Ads campaign; which were also explained and how to make the best use of them, it is essential to discuss the best PPC management software to be used by a digital marketer or business owner to improve sales and generate traffic.
Top PPC Software Available in the Market
One can manage their PPC using the following software. Read on to know more about them:
1. NinjaSEM
NinjaSEM is the best PPC management software. It is a PPC software used to launch advertising campaigns using its creation tools. NinjaSEM enables you to optimize ads campaigns, collaborate with third-party apps to monitor the performance of PPC ads, provide real-time notifications and generate streamlined reports. It also allows you to monitor all your campaigns and Google ads accounts understanding dashboard and understand collate easy-to-understand reports.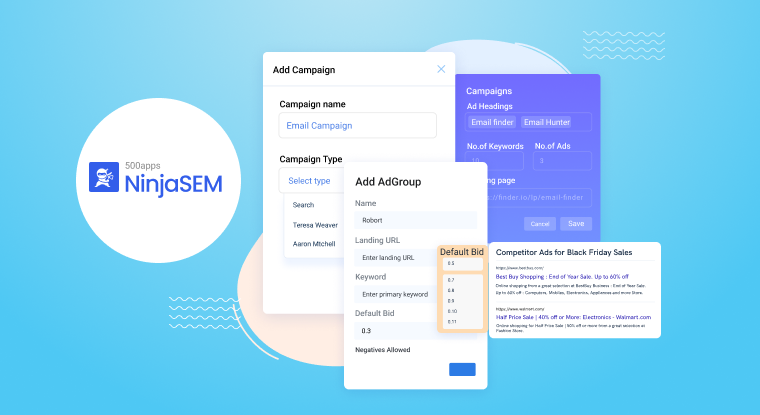 This PPC management software features include; Benchmarking, keyword search, Alert notifications, report generation, campaign budget management, and a host of others. It also allows for Saas, web, and cloud deployment.
NinjaSEM is considered the best PPC management software because it allows you to customize your Adword scripts without coding knowledge. It also enables you to analyze data from multiple sources, making valuable findings based on industry best practices.
With $9.9 per month, you have unlimited access to NinjaSEM functionalities and over 30 apps developed by project500apps. It also has a free trial for 30 days.
2. Optmyzr
Optmyzr is a PPC management software cum Adwords optimization tool developed to help digital marketers create, run and manage successful digital marketing campaigns. Optmyzr has unique features such as personalized templates, interactive and responsive dashboards, manual configuration, and data refresh, among others.
This PPC software enables you to generate customizable advertisement script codes for custom rules creation, budget management, editing advertisement errors through its enhanced scripts for Google Ads.
Optmyzr has its free trial plan alongside other advanced plans that goes for $299 per month, $349 per month & $399 per month, which gives you access to its full features.
3. Campaign Automator
Campaign Automator is one of the best PPC management software that allows you to create and update your advertisement campaign in Google Ads through your product feeds.
This PPC software combines structured data/ information about your product. It defines it with a template to automatically create a suitable Google Ads campaign and maintain the search engine.
Campaign Automator synchronizes your Google Ads campaign with your latest inventory, product prices, and special offers. It also creates keywords, ad groups, and extensions for your Pay per click campaign.
4. PPC Ad Editor
PPC Ad editor is a PPC management software that helps the digital marketer streamline the process involved in creating, approving, and uploading your advertisement campaign in real-time.
This PPC software helps to demystify the procedures involved in launching a successful Google Ads. Its features include AB testing, campaign management, URL builder, accounts alerts/notifications, and landing pages, among others.
This PPC management software pricing starts from $100 per month, which gives you access to its full functionality.
5. ClickCease
ClickCease is among the best PPC management software that enables businesses and digital marketers to identify and block fake clicks, bots and other irrelevant visitors or malware to ensure PPC campaigns' success. This PPC software has machine learning algorithms that help to monitor Pay-per-click customers and automatically separate real customers from bots.
ClickCease can be integrated with any third-party app or a custom site to provide an in-depth analysis of the differences between customer clicks and fraudulent clicks. The reason why fake clicks are sent to your Google Ads is to justify that your PPC budget has been spent on visitors that clicked your ads.
Features such as campaign keyword analytics, device mapping, ad placement analytics, screen recording of visitors to your landing page are what distinguish ClickCease from other PPC software.
Apart from the free trial, the standard plan goes for $50 per month, while the pro plan goes for $75 per month.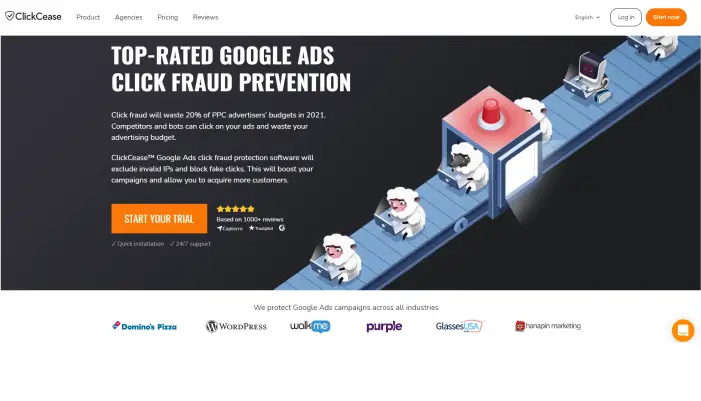 Conclusion
According to Statista, "search advertising campaigns on mobile (digital advertisement) are estimated to gross $22.8 billion in 2020".
The difference between Pay-per-click ads and other Google Ad campaigns is minimal; they are all used to achieve the same result; to create awareness for your product and services and increase patronage.
NinjaSEM.com is the best PPC management software to speed up your campaign creation, ads optimization and get the optimum value for your spending on Google ads.
Why NinjaSEM?
#1
Improved Conversion Rate
#4
Competitor Ads & Keywords Screening Tool
#5
Exclusive PPC Campaigns
#7
Google Ads Optimization
#8
Intelligent Keyword Evaluation
#9
Unbelievable pricing - the lowest you will ever find
#10
Everything your business needs - 50 apps, 24/5 support and 99.95% uptime
Join the SaaS Revolution
All-in-One Suite of 50 apps

Unbelievable pricing - ₹999/user

24/5 Chat, Phone and Email Support