8 Costly Google Ads Mistakes to Avoid
Google Ads are a great way to generate leads and sales, but only if your strategy is sound. Here are 8 common Google Ads mistakes to avoid.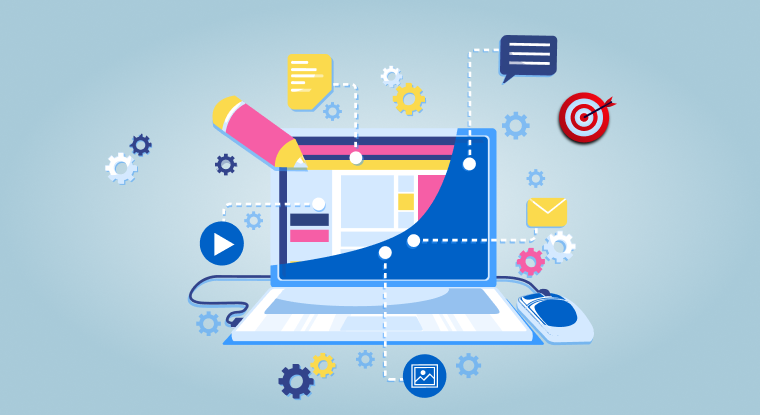 Without a doubt, Google Ads can be a powerful tool for bringing interested visitors to your website, thus generating new leads, leading to sales for your business. It is also a fact that the Google Ads interface is so easy and straightforward that setting up your ads have become a breeze. A campaign that would have taken a large advertisement budget in a not-so-distant past is carried out with half the cost and a higher chance of receiving a substantial amount on your return on investment.
It is even possible that you have run a few successful Google ads, either through grace, skill or even luck; whatever the reason, your ads are on the right track to success. You are on top of the world because you feel like you have gotten the hang of Google Ads, but then your numbers start to dwindle, your statistics are no longer in the thousands and worst of all, you have begun to lose money. The question that races through your mind is, "Where did I go wrong?"
The sad reality is that you may have made a costly Google ads mistake, which has cost you a lot of money.
Like popular marketing strategist Jen Bryan made known in her podcast, "Even small Google ads mistakes or missed opportunities can take a toll on your advertising budget."
Even small google ad mistakes or missed opportunities can take a toll on your advertising budget. In tomorrow's podcast @markFlavinCliq and I discuss the most common mistakes we see and how to fix them.

Full episode will be available tomorrow on the link below. 👇🏻👇🏻

— Jen Bryan (@JennyBryan_) June 19, 2019
This is because you have a poorly configured marketing campaign that may have readily been displayed to the incorrect target audience or even lost in the shuffle. But, rest assured, you are not the only one who has made this sort of Google ads mistake; if you were, then this blog post would not exist. Also, not forgetting that overcoming these hurdles will make you stronger for it.
Common Google Ads Mistakes You're Making with Your Campaigns
These google ads mistakes are pretty common, hence should be avoided as the price is too high:
1. Not Changing the Default Settings
When it comes to setting up a campaign, Google's default suggestions can be risky choices, and they're the ones you want to stop. The settings that you will need to watch out for the most are the ones listed below.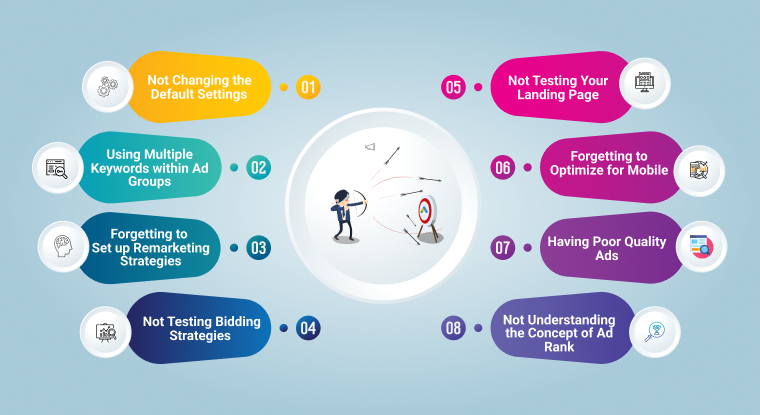 Search & Display Network: You can choose between Search Network, Display Network, or both when designing search network campaigns. You can only use the Search Network for search campaigns where the target is lead generation (rather than, say, brand awareness). The conversion rate of clicks on the Display Network is notoriously poor compared to search, driving up the Cost Per Acquisitions without providing any real gain. Using the Display network is a waste of money because you won't get good traffic that converts. Negative keywords: You may use negative keywords to prevent phrases from activating your advertisements. At the very least, you can continue to extend your negative keyword list based on your search term reports every week.
Conversion Tracking: This is a crucial setting to take note of because you won't be able to say how much it costs to get a lead or a sale from your campaigns unless you have this information. You also won't be able to tell which keywords are driving sales and which aren't. Conversion optimization for your Google Ads campaign is a quick way to increase your ROI and get the most out of your money.
Keyword Research: The type of audience you target is determined by the keyword you use. If you bid on the wrong keywords, you'll waste your ad budget by attracting the wrong audience to your website – people who aren't interested in the goods or services you offer. One of the most popular and potentially costly Google Ads mistake is failing to conduct thorough keyword analysis. To find the right and correct keywords for your account, you must use keyword planner tools.
Keyword Match Type: Although this is critical, you should also be able to figure out which match type is best for your Google ads. Understanding keyword match styles is essential for the success of your Google Ads campaign. Please note in your mind that if you don't specify the match type, a broad match will be applied to all of your keywords by default. With a broad match, your ad could show up for any search that Google thinks is connected to your keyword – even if the connection isn't solid. You will drastically reduce the number of irrelevant clicks you get by ignoring broad match keywords and instead focusing on a mix of exact match, phrase match, and updated broad match keywords.
Finding 10-15 simple keywords and using them in all three variants: Broad match modifier, phrase match, and an exact match are strongly advised. This way, you'll have them in three variants that are all closely linked to the term's definition.
2. Using Multiple Keywords within Ad Groups
One of the most frequent Google Ads mistake users make is creating ad groups with up to 20 loosely related keywords. It makes it difficult to write ads that apply to all of those keywords, and it often leads to a discrepancy between what people are looking for and what the ad suggests.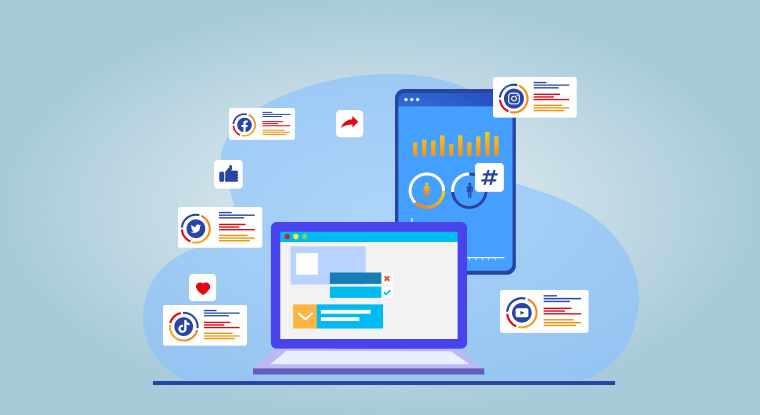 The best strategy is to add one keyword per ad category, which helps you to make your advertising more descriptive and, as a result, more important. You can also use dynamic text substitution, which automatically changes the text on a landing page to fit the keywords from your ads, reducing the number of landing pages you'll need to create.
3. Forgetting to Set up Remarketing Strategies
Remarketing is a form of advertisement that reaches out to visitors who have already visited your website but have not yet become customers. Many marketers today insist on using a remarketing ads. Still, just a few of them go to the trouble of properly optimizing and moving the ad to make it more efficient. You can use Google to create a report that shows where the ads are shown and which places are the most effective.
This is one of the most popular Google ads mistake users make during their campaigns. Misspelling the keyword, having broken and redirected landing pages, and failing to track the competition are only a few examples. Stop them at all costs, or you risk losing essential leads and potential clients, not to mention wasting a lot of money on a campaign that was destined to fail from the start. While a well-optimized strategy will help any marketing campaign succeed, a poorly optimized plan can quickly become a waste of time and money.
4. Not Testing Bidding Strategies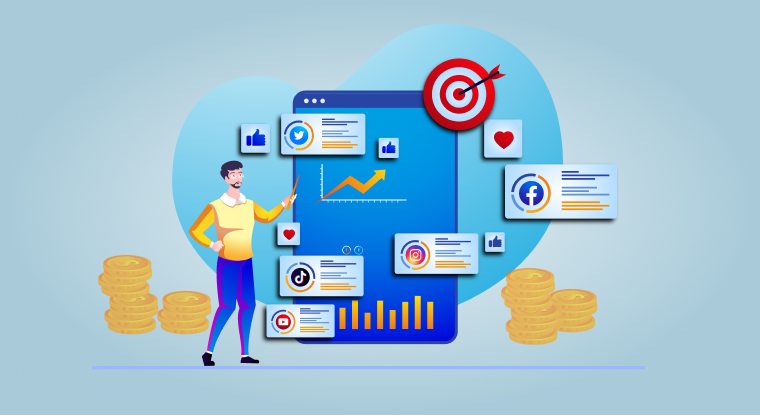 Not testing bidding strategies could be a costly Google ads mistake. For long-term bids, manual Cost Per Click gives you more leverage over your bids. However, if you only intend to test a campaign for one or two weeks, enhanced CPC might be a better option. These bid strategies allow Google to obtain the most significant number of clicks at the lowest possible cost. Also, target CPA and target ROAS are the two bid tactics you want to focus on squarely. These two bid strategies allow you to bid based on your desired Cost per Action or Return on Ad Spend. To put it another way, it will enable you to spend just the right amount of money on ads to maximize your return on investment.
5. Not Testing Your Landing Page
When using pay-per-click ads, it's essential to ensure that all clicks are counted since you're the one who pays for each one. This is where A/B testing comes in, as it allows you to build two virtually identical landing pages, each with minor differences, and compare how successful they are at converting users. This helps advertisers to decide which strategy is the most successful and then use the results to fine-tune and improve their digital advertising efforts. Not doing this is definitely a serious Google ads mistake.
6. Forgetting to Optimize for Mobile
We have now crossed the bridge in many user categories where more searches are conducted on smartphones than on desktops, thanks to the ever-increasing number of searches conducted on mobile devices. This poses a significant challenge, particularly for e-commerce businesses, since mobile conversion rates are usually lower than desktop conversion rates.
Using mobile bid changes to reduce the amount you want to pay per click if the search is happening on a mobile device can boost ppc campaigns profitability, particularly if you have a limited budget. And forgetting to do that is a common Google ads mistake. In comparison, you might find that website visits from mobile users are more valuable to you because they convert better than average for your company type. If that's the case, you can use a mobile bid adjustments technique to increase your mobile offers by up to 300 per cent over your regular desktop bid.
As with all Google Ads recommendations, it will be necessary to validate this, especially for cross-device behavior, through thorough analysis and testing. New mobile visits, on the other hand, maybe less likely to convert than new desktop visits. To grasp the entire customer path, you must use cross-device monitoring. This is because visitors may not convert on their first smartphone visit but return a few days later with a desktop visit and convert.
7. Having Poor Quality Ads
Of course, having poor quality ads would be a Google ads mistake. Your Quality Scores will improve if your ads have a higher click-through rate (CTR). There are many ways to make the advertisements more entertaining and attention-grabbing. This will increase your CTR and, as a result, raise your Quality Score. Thus, the cost per click is lower. Most marketers are likely to ignore this, but Google ad errors can be costly. To increase your ad clicks, use the following strategies:
Make your ad material more critical to search queries by optimizing it.
Use title casing, which means capitalizing the first letter of each word in the ad.
Experiment with different wording or language types in your advertising.
Mention any promotional deals or discounts that people should take advantage of as soon as possible.
Have specific offers/benefits and USPs so that customers can quickly see how you vary from and outperform competitors.
Have the appropriate call to action.
Provide related keywords in your display URL.
Also, make sure you've included all of the Ad Extensions that apply to your business. Ad Extensions are features that show additional information underneath your primary ad copy. They provide more detail to searchers at a glance and make your ad stand out.
8. Not Understanding the Concept of Ad Rank
Not understanding the concept of ad rank could be a very costly Google ads mistake. Many marketers (including seasoned professionals) believe that your ad's location on the search engine results page is solely decided by how much you offer. The more you bid, the higher you rank. Google calculates your Ad Rank score and uses it to place your ad concerning other ads bidding on the exact keywords.
Every keyword in your Google Ads account has a Quality Score assigned to it (ranging from 1 to 10), with the highest being ten. Here's how to boost a keyword's ranking:
Make sure the ad copy is highly appropriate to the keyword; This can be improved by optimizing your advertising and restructuring your account to have multiple ad groups with less similar keywords in each one.
Ascertain that the landing page to which your ad directs is significant to the keyword of your Google Ad. Make sure the page provides a positive user experience by including valuable content, a transparent privacy policy, and the absence of irritating elements such as pop-ups, a lot of advertising, or clickbait.
Make your advertising more persuasive and attention-getting; you'll have a greater chance of your click-through rate (CTR), and the higher your CTR, the higher your Quality Score. Improving your Quality Scores will help you get more clicks for less money. Even if you bid less on your keywords, you will be able to achieve a high Ad Rank if you focus your efforts on improving Quality Scores across your Google Ads account.
Bottom Line
At least knowing what Google ads mistake you're making, and learning how to avoid them will get you closer to your end goal – driving more targeted traffic to your site and boosting your marketing efforts. By learning how to spot and prevent these blunders, you can be assured that your Google Ad will find its way to the top someday. You should try using NinjaSEM today! It makes it so much easier to avoid these mistakes. Remember to keep being consistent because anything worth doing is worth doing well!
Why NinjaSEM?
#1
Improved Conversion Rate
#4
Competitor Ads & Keywords Screening Tool
#5
Exclusive PPC Campaigns
#7
Google Ads Optimization
#8
Intelligent Keyword Evaluation
#9
Unbelievable pricing - the lowest you will ever find
#10
Everything your business needs - 50 apps, 24/5 support and 99.95% uptime
Join the SaaS Revolution
All-in-One Suite of 50 apps

Unbelievable pricing - ₹999/user

24/5 Chat, Phone and Email Support