What is PPC Management Software?
Know the features of PPC management software that help you to drive ad campaigns for your business. Here's what to know about NinjaSEM.
What Is PPC Software?
An ideal PPC software is one that can run on its own. The right marketing software for your business automates most tasks from monitoring to reporting. Insights obtained from using your PPC tool should lead to an increase in revenue generated, which justifies the initial cost, time and effort in installing it in your system. This guide takes you through the basic information about PPC software, how it works, and why your business needs it.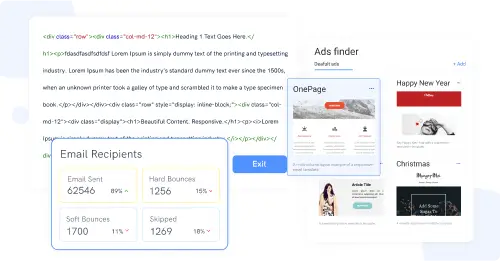 Our Guide To What PPC Software Is
Pay Per Click (PPC) Software puts your business ahead of the game by automating many tasks that would have taken a lot of time and energy. For instance, the process of manually going through Google Analytics and Google Ads to collect the necessary marketing insights is quite tiresome. It's even more frustrating when you have to evaluate tons of other tools that your company might be using. With PPC software, you can take your hands off the wheel and focus more on other important tasks that require your manual input.
What Is Pay Per Click Software?
PPC software is a tool that gives businesses the advantage of setting up, managing, tracking, and modifying the performance of pay-per-click campaigns. When using this software, you can set up campaigns depending on your budget and bigging amounts. Once this is done, PPC links are then placed on the specific channels where your ad campaigns are running, such as Bing, Google Ads, Facebook ads, and so on. Generally, PPC refers to an online model where advertisers offer reimbursement each time a visitor clicks their online ads. There are numerous types of PPC ads, but most businesses use paid search ads. In most cases, these ads appear when internet users search for items on various search engines like Bing, Yahoo or Google. Usually, when individuals conduct commercial searches, they are interested in buying something.
This can range from anything like conducting mobile searches, for instance, someone looking to buy chips or a shopper trying to find a local phone dealer shop. Such commercial searches trigger PPC ads.
Does Pay Per Click Software Work?
Yes. Pay per click software works. With the help of this software, you can effectively manage your PPC ads. It frees you from the need to manually use this tool. Therefore, it allows you to pay more attention to growing your company by attracting more customers.
PPC tool gives you the advantage of remaining competitive in the market. Since you can monitor and track your ads, you can optimize them to ensure that you get the best out of these ads. What's more, PPC software works to make sure that your advertising budget is spent wisely. You end up saving a lot of money on your ads.
Sure, you might be wondering what's the need of a PPC software while you could simply manage your ads manually. While it's possible to enhance your ad campaign manually, results from PPC tool are greater. This is because PPC software utilizes machine learning to analyze your business accounts all round the clock. Therefore, you can be sure of the insights you will collect from this system. The best PPC tool for your business will go beyond analyzing your ads since it will help you find new ways to optimize them. You will always gain access to tons of suggestions on how your ad campaigns can be improved for more refined results. The automation aspect of PPC software is another reason this software is worth using. You don't have to spend countless hours collecting information that you could use to manage your marketing ads. PPC tool does all the job. So, you end up spending less time and making more returns on your marketing investments.
What Pay Per Click Software To Use
There are many PPC providers online, and choosing one can be confusing. To save you from the hassle, here's one of the best tools you can use in the market. NinjaSEM.com NinjaSEM.com is a PPC software with over 30,000 active users. This is a great tool that takes control over campaign creation. It also helps you optimize your ads with just a few clicks. Other tasks you can quickly handle using this tool include setting up, managing, modifying, and tracking your PPC's performance.